Video Post 2: Visual Identity
2 critical areas that every church needs to get right to establish a strong brand in their city; a strong logo and tagline.
Bonus: Free Ebook Download
I have produced a free ebook to accompany this video in helping you implement the branding strategies I discussed. Get the free download and start building your church brand.
I'll share the first 2 things you need to focus on getting right with your band so you are not invisible to your city. You'll have the same strategy which growing churches are using to attract people.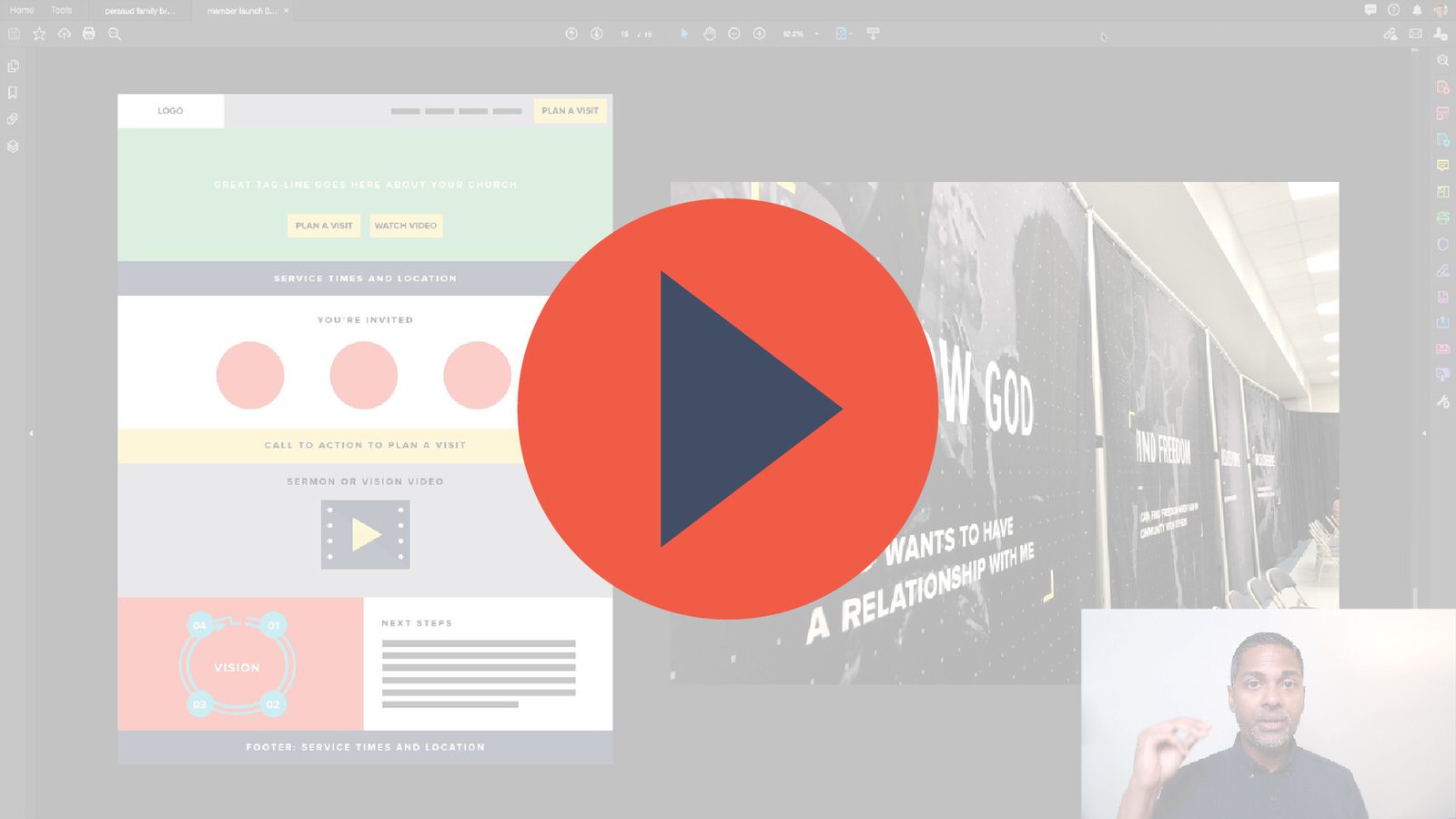 Video Post 03 – Coming Soon
Post 3 will show you have to have a strong visual presence that is in line with your vision. This builds trust so people decide to come for a visit.
"Michael created a logo that represents our vision so well for the next season of our church."
Three big ideas to transform your church's brand
Thank you for coming back for this second post to help you build a better church brand. 
I sent out a survey several weeks ago asking for questions church leaders have about creating an effective brand that reaches their city. It has allowed me to create this video series to help many churches build brands that cause people to join the mission.
I have an agency that specialized in designing brands for churches. In the last video post I shared how GO Church experienced a 30% increase in attendance after rebranding, Vibrant Church planted in a new city and in seven months had reached over 200 in attendance on a weekend, and Evangelistic Center saw a dramatic increase in giving after they launched their new brand. 
Over the years, I have created a process that will allow your church to create a compelling brand in your city. You'll learn more about that later. 
One of the questions that a church leader asked in my branding survey was, "what are the most important brand considerations beyond the church name." I wanted to share 2 considerations with you.
 I want to discuss 2 critical areas that every church needs to get right to establish a strong brand in their city. 
Create a relevant 

logo design

Come up with a 

tagline

 that positions your church as a solution
Logo Design
There are 3 things you need to know about choosing the right logo design for your church.
It has to be simple, not complicated.
The more simple a design is, the more memorable it will be. Think about some of the most effective brands that you know like Nike, Apple, and Target. Their logo is simple. The designer needs to take away as much as possible in their approach and leave only what is necessary.
It needs to be a vector, not pixel-based.
Make sure the logo is designed using a vector-based program like Adobe Illustrator, not a pixel-based program like Adobe Photoshop. This will allow you to have a design that can be scaled to any size and still look sharp. Vector designs are simple and punch without elements like drop shadows or an image. 
The logo for Mosaic Church is a design I created to represent their vision to help people from all backgrounds live their best life. It is designed with simple shapes using Adobe Illustrator, which is a vector-based program.
It should work on all kinds of media of all sizes.
The design needs to be scalable with all its elements, so nothing is lost when displayed very small. A proper logo design has no issues when presented on a website, on printed materials, or in video formats. The designer should follow sound design principles, such as making sure the design has proper ratios and providing variations for all types of media. 
There are 4 styles of logos:
Word mark – The font is the logo. Disney is a good example.

Combination mark – There is a symbol with the word(s). McDonald's is a good example.

Letter type – The initials of the company is the logo design. GE is a good example.

Symbol – There is an emblem that has the name in it. Harley-Davidson is a good example.
I like the combination mark for most churches because it allows for use on all kinds of media. You have the flexibility to use the mark together with the letters or the mark by itself. 
Objection
From time to time I see a comment on my feed asking why a church needs to spend time and money building a brand. They say that God will bring people to the church. 
I have come to understand that God will bring people to the church as He uses us to serve them well with excellent communication. Branding is a tool that allows us to let the people in our city know how we can help them. 
In Acts 17, Paul was in Athens, which was a trendy city where they worshiped many gods. He saw a shrine to the "unknown" god as he walked through the streets. When Paul was allowed to present his ideas to the people of Athens, he used the unknown god to introduce them to the Gospel message. Paul was able to relate to the city because he focused on what they could understand and this is what building a brand does for your church. 
This leads me to our second area that your church has to get right, which is the tagline.
Tagline
A tagline is a short statement of about 4 to 8 words that positions your church as a solution to your audience's problem. This is typically created as part of defining your brand's strategy and has a non-religious tone that is relatable to those outside your church.
Here are some taglines you may be familiar with:
Just do it – Nike

Think different – Apple

It's finger-lickin' good – KFC

America runs on Dunkin' – Dunkin' Donuts

I'm lovin' it – McDonald's
​Many churches present a statement that speaks to their own members, but the most effective taglines are the ones that speak to the need in your city.
Below is a list of taglines from several churches I have worked with the last year or so to develop. This is a part of my strategy session, which allows me to define the brand before I create the visual elements like the logo or website.
Encounter God. Live for more.

Powered by purpose.

Grow stronger together.

Know God. Live with purpose.

Experience. Better. Life.

Live a better story.

Live for more.

Live a better journey.

Release the greater you.

Live your best life.

Where possibilities are realized.

Live your dream.

Where people are loved to life.
​​I like to use the tagline with a variation of a logo, on the website's home page, on a large banner in the lobby, on t-shirts, and on invitation cards. It's a simple yet powerful message that connects you with your audience.
With Mosaic Church, we created a logo that looked like a badge and included the tagline. This will be a great tool for them to place on merchandise to present their brand.
Church leaders may think that branding is too expensive. It may seem like the cost to get a proper logo design, build an excellent website, and design the facility well is too much for a non-profit organization. 
What they need to understand is this cost is an investment that will get a tremendous return as people can see their church as relevant to their lives. 
Vibrant Church went through my branding process as a church plant. They raised over $400,000 before its launch day as they were able to clearly present the vision. They had over 25 people move across the country to South Florida to be part of the church in a foreign city. The branding compelled people to participate at a high level.
I am so excited to share with you in the next post about building trust with your audience by showing you how to create a branding guide document. Trust is the glue that causes them to say, "I like it here." This will help you create alignment in all areas of the church, so you move the needle forward when it comes to growth.
I'll also let you know about a process that will allow me to be your guide as you create your church's brand.
If you are ready to have a call to discuss what the branding process is and the price, then book a time below.